Upcoming Events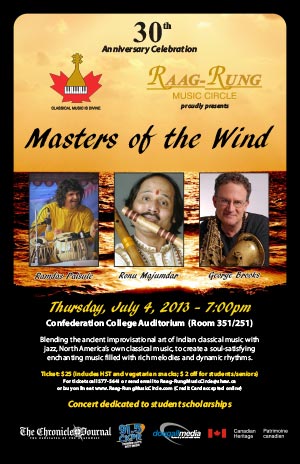 Masters of the WInd
Thursday,
July 4th, 2013 7:00PM
Confederation College Auditorium (Room 351/251)

We dedicate this event to student Scholarships



Donations Welcome
For Tickets:
Tickets per person:

$25

Students & Seniors:

$23

Raag-Rung Music Circle
is a registered charitable
organization. A Tax Receipt
will be issued for your donation.
Mission
To educate and increase the public's understanding and appreciation of the arts by providing performances of an artistic nature in public places, senior citizens homes, churches, community centers and educational institutions and by providing seminars and workshops on topics relating to such performances.
http://www.youtube.com/watch?v=nVrzLZPpTSs&feature=share